Freeing the World to Death
Essays on the American Empire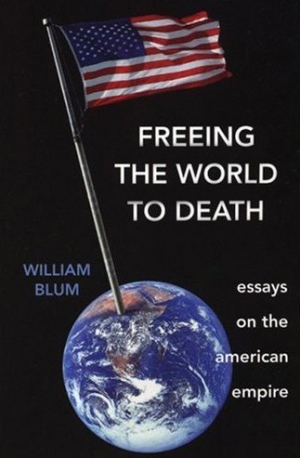 2004, 314 pages
Published by Common Courage Press
ISBN: 9781567513066
A collection of essays written by William Blum, some of which were published over the past decade in various magazines and anthologies, some appeared in his regular internet newsletter: The Anti-Empire Report, some which appeared only on his website, and some written explicitly for this book.
Table of Contents
The Anti-Empire Report
Monthly commentaries (July 2004 and earlier)
Interventions Are Us
Setting a high (double) standard: Supplying Saddam Hussein with weapons of mass destruction
Debate in Dublin: "America's foreign policy does more harm than good."
The 1998 bombings of Afghanistan and Sudan's Medicine Supply
The Cold War
Before there were terrorists, there were communists and the Wonderful World of Anti-Communism
The Empire at Home
"Letter from America", columns in The Ecologist of London
Winning hearts and mindless
Being There with Alan Greenspan and Ayn Rand
If in doubt, call the FBI
The Election Circus
Notes
Index
Purchase Freeing the World to Death
For a copy signed to you personally, and shipped immediately, send a check to:
William Blum
5100 Connecticut Ave., NW, #707
Washington, DC, 20008-2064, USA
Please specify to whom each book should be inscribed and include your phone number and/or email address in case a question arises.
The prices are shown below and are in U.S. dollars (check or cash) or Euros (cash). All foreign checks or international money orders must be payable in US dollars.
Price for the paperback, including postage:
United States – $16
Canada – $23
Western Europe – $29
Australia/New Zealand/Japan – $29
Other countries: email to request a price.
To purchase Freeing the World to Death by credit card, take note of the price and use the PayPal button below.
If you wish to purchase more than one title you must make a separate payment for each. Or send a check for the total to:
William Blum
5100 Connecticut Avenue, NW #707
Washington, DC, 20008-2064
Or purchase it online elsewhere: Amazon; Common Courage Press.
Freeing the World to Death in other languages
This book is also available in Italian and Finnish. Contact the author at for further information.